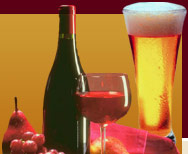 Home Brewing Kits
Home brewing kits provide the perfect introduction to the increasingly popular art of making your own beers, brewing or making wine at home and cider brewing. Gone are the days of men of a certain age spending hour upon hour in a shed at the bottom of the garden preparing a tasteless, often undrinkable fluid. The benefits of home brewing kits mean that people of all ages are successfully producing drinks to rival the quality of those served in pubs.
(Some great value home brew beer kits can be found on this page.)
From then on all you need are refill kits which cost as little as £8 for a 40 pint bitter kit.
Benefits of home brewing
If you are thinking about giving it a go then see below for some great reasons why brewing your own drinks could be your new hobby.
Saving money. With the credit crunch and recession being mentioned daily on the news it goes without saying that the majority of us are tightening our belts and looking for ways to save money. Brewing your own beer, wine or cider costs a fraction of the price of supermarket and pub prices. Of course there's an initial outlay for the equipment, however this is soon recouped once you start producing barrel after barrel of quality beverages.
Not only are you developing a new skill but there's great satisfaction watching your family and friends enjoying a beer that you have made yourself, a great sense of achievement.
Environmental benefits. No labels, no boxes, no plastic wrapping, just bottles that can be recycled time and time again.
Home brew tastes great. Home brewing kits have come a long way in recent years and now taste as good as, if not better than mass produced drinks. Home brewed beers have natural carbonation from live yeast as opposed to artificially added carbon. This undoubtedly exposes the natural flavour of the beer.
You know every ingredient that your drink is made from, and there is no question as to how long it's been stood on a supermarket shelf for.
Getting started
If that's given you an incentive to give it a go I'm sure your first question is how do I get started? One of the simplest ways to begin is to buy a complete home brewing kit. This will contain everything you need to produce your first batch of quality drinks.
Affordable home brewing kits
The kits can be purchased from either a brew shop or online for anything between £15 - £80. Amazon has some great home brew starter kits available from around £20. The kits will include a step by step guide, which makes home brewing accessible for even a complete novice. The starter kits include all the equipment you need. From then on all you need are refill kits which cost as little as £8 for a 40 pint bitter kit. That's around 20p per pint. This may have something to do with the recent increase in popularity!!
So now we've covered the benefits of home brewing, and given you a guide to getting started the next step is to decide which drink to make first. Beer or real ale is probably a good choice for beginners as neither of these need decanting into bottles, which means less equipment to sterilise!
You don't have to brew beer!
Home wine brewing is also becoming increasingly popular, due to the decline of the pub trade and an increase in home entertaining. No need to tell your guests to "bring a bottle" when you've brewed it yourself!
Hope this site becomes a valuable companion in your quest to brew quality drinks at a fraction of pub and supermarket prices.
...Happy brewing!!
Brewbuddy Beer Making Starter Kit

Cost per kit - See latest price...
Makes 40 Pints
Takes approximately 21 days to produce pub style beer